Post imported from The Podunkian Post Gazette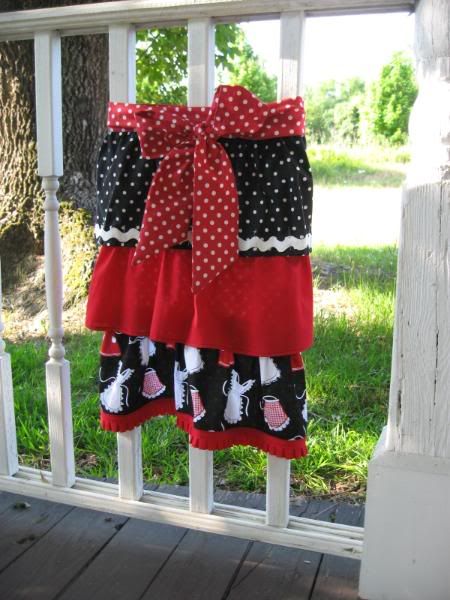 A few of my GLU friends (Elizabeth, Alicia, & Dawn) met up at the Candy Dance in Genoa, Nevada a couple years ago and came back with the cutest aprons. Since then I have been trying to recreate those aprons from the beautiful pictures I've seen. Seriously - I have no sewing experience or pattern making ability - but I gave it my best shot. Does look kind of nice from the pic - doesn't it..... just don't take a look under those ruffles... pit-tee-ful! However, I have recently acquired a serger and I'm sure the next apron will look even better.
I did Google a similar apron pattern online to use as a guide - I just modified the pattern to resemble the Candy Dance apron. You can find that apron pattern/tutorial here:
One More Moore
Here are the lengths I used:
(1) Back Panel: 16.5" x 23.5"
(3) Ruffles: 9" x 37"
(1) Waistband: 4.5" x 23.5" (I used a fusible interfacing in the waistband)
(4) Apron Strings: 4" x 46" (Miter cut the ends - do you miter cut fabric - I'm thinking wood here - you now what I mean, right)